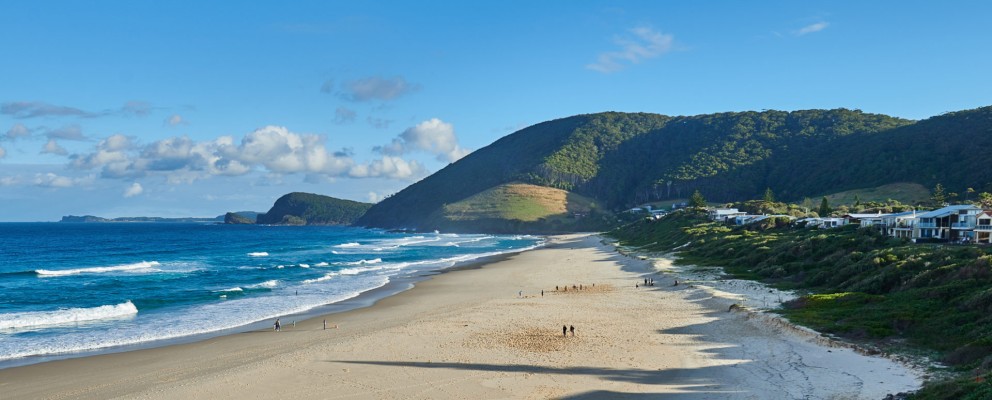 Accommodation Blueys Beach
Welcome to the pristine coastal paradise of Blueys Beach on the stunning NSW North Coast! Situated in an optimum spot, just three and half hours from Sydney, Blueys is the ultimate mix of classic Australian country meets beachside. This idyllic destination offers the perfect blend of relaxation and adventure for your dream holiday. Whether you're seeking a tranquil escape or an action-packed getaway, accommodation options in Blueys Beach cater to every preference, ensuring a comfortable and memorable stay.
Accommodation at Blueys Beach ranges from cosy beachfront cottages to modern luxury homes, all designed to provide the ultimate home away from home. Wake up to the soothing sound of waves crashing against the shore, as you step onto your private balcony to witness stunning sunrises painting the sky in hues of pink and gold. The local charm of Blueys Beach extends beyond the accommodations, as you stroll through the quaint village and discover artisanal shops, friendly cafes, and a vibrant arts scene.
However, it's the natural wonders of Blueys Beach that truly steal the show. With its pristine coastline stretching as far as the eye can see, it's no wonder that water-based activities take center stage. Embark on a thrilling surfing adventure, riding the renowned breaks that have made this region a surfer's paradise. If you're new to the sport, experienced instructors are on hand to guide you through the exhilarating experience of catching your first wave.
For those seeking a more serene encounter with nature, the surrounding national parks offer a haven of lush rainforests and abundant wildlife. Lace up your hiking boots and set off on picturesque trails, leading you to hidden waterfalls and panoramic lookouts. Don't forget your binoculars, as Blueys Beach boasts an impressive array of bird species and marine life.
In every corner of Blueys Beach, adventure, relaxation, and natural beauty converge to create an unforgettable holiday experience. Whether you're unwinding on the soft sands, exploring the vibrant local culture, or immersing yourself in the great outdoors, Blueys invites you to savor each moment and create cherished memories that will last a lifetime.